Artificial Respiratory Equipments
Corrugated Tube
We offer a wide range of corrugated tube (42 Inch [105 Cm]). These tubes are applicable in petrochemical, pharmaceutical, food, automotive, chemical and electrical industries.
Features:
UV Resistance
Self Extinguishing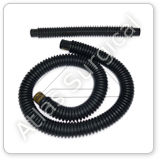 Oxygen Reservoir Bags
We offer Oxygen Reservoir Bag for Resuscitators. The Oxygen Reservoir Bag is single use only but it's valve is Autoclavable 131
0
C.