Tel.: +91 11 25928322 / +91 11 47028322
Whatsapp: +919999328527
email:atlas@sahaj.com
Plastic Wares
3 Tier Test Tube Stand
These racks with a 3-tier design provide clear view of the tube contents & convenient insertion & removal of tubes. The PC rack has transparent upper & middle plates where as in PP racks, every part is coloured & opaque.
Aspirator Bottle
Atlas aspirator bottles are made of polypropylene and are therefore much lighter than glass. These are autoclavable, durable & dependable. The leadproof spigot screwed to the bottle body requires only a half turn to open or close. These bottles are used ofr storing or dispensing distilled water & other laboratory solutions.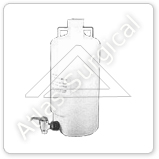 Beakers Plastic
Atlas beakers, moulded in Polypropylene, have excellent clarity and very good chemical resistance. These autoclavable beakers have prominently raised graduations on the outer surface. Pouring a solution becomes very convenient because of its tapered spout.
Funnel Long Stem
These long stem plastic funnel have smooth walls, 60 cone angle and external ribs to prevent air lock. Moulded in polypropylene, these clear funnels can also be steam autoclaved.