Hospital Furniture - Examination Tables
Examination Couch With Cabinet Drawers
Description
Adjustable backrest by gas spring system.
Two section Foam padded, upholstered top.
Provided with three Drawers and three Cabinets.
Tray for B.P. Apparatus provided near head rest.
Finish : Pre treated & Epoxy Powder Coated.
Examination Table Plain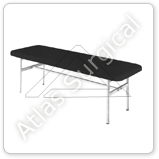 Description
Frame work of CRC tubes.
Legs fitted with PVC stumps. 5 cms foam cushioned top covered with rexine.
Finish : Pre-treated and Epoxy Powder Coated.